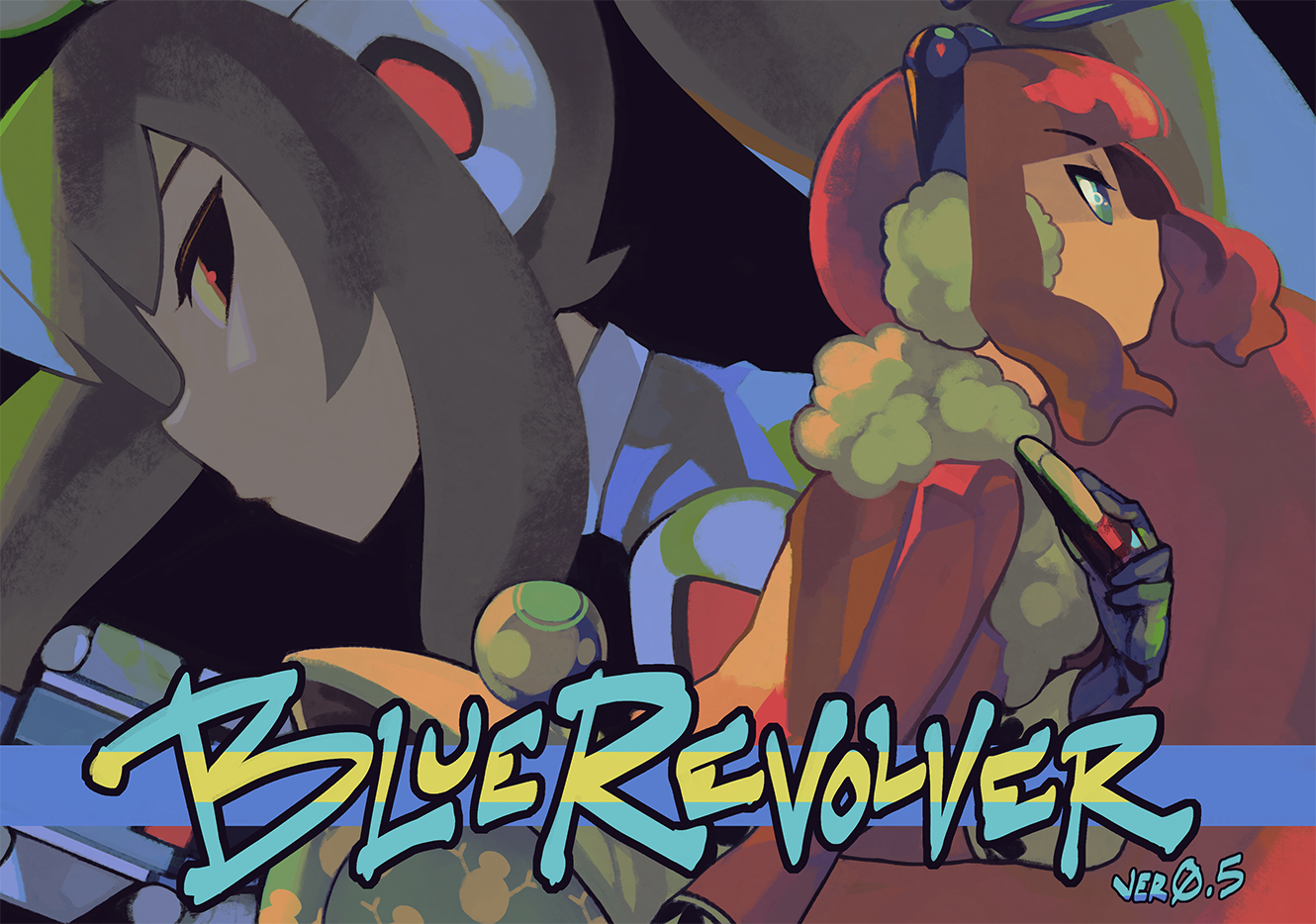 BLUE REVOLVER [v0.51 demo]
A downloadable game for Windows, macOS, and Linux
v0.51 is here! Changelog :

The game should now control far better when using analog sticks on gamepads. (Changed deadzone)
Added borderless fullscreen mode - recommended for OSX.
Added vsync option.
Added a small ammo bar at the top of the screen to assist in ammo management.
Fixed an issue where resuppliers would sometimes give an inconsistent amount of ammunition.
Fixed an issue where poor performance would make the game enter a "turbo mode" for a short period of time.
Fixed an issue where stages could be skipped by mashing buttons.
Fixed an issue where the game could crash if paused on the game over screen.
BLUE REVOLVER is a fresh new manic shooter for PC, OS X and Linux - inspired by the greats of CAVE and Raizing, and featuring the rabbit-eared technical genius "Mae" on the run from the forces of maniac environmental police "Blue Revolver" ☆ Fight through hordes of popcorn enemies, punch through blockades of big baddies and weave through frantic bullet patterns - and do all the above with a flourish for a high score!
This is a 3-stage demo, and not representative of the final product ★ Everything you see, hear and shoot in this release is subject to tweaks, change or programmer tantrums ☆ While there's a lot to get your teeth into here, the full game will feature 5 stages, a daily challenge mode, a hard-as-nails Parallel mode and more!
---
We're hosting a Score Challenge! Get a score of over 20 million and email a youtube / twitch VOD to danbo@bluerevolvergame.com to get your name in the full version's credits! Deadline is October 1st, so get cracking! Score challenge over! Thanks for participating!
---
How to Play

Default controls are WASDJKL; or arrow keys + ZXCV.
Fire your guns with J/Z, or hold it down for focused fire.
Use your special weapon with K/X. There are 4 different special weapons in this demo :

OFFENSE types are simple to use and powerful enough to clear out difficult enemies.
DEFENSE types pay a heavy cost in ammo efficiency, but can guard you from enemy bullets for a little while.
FINESSE types are more difficult to use, but feature excellent ammo efficiency.

If your hand gets tired, autofire can be used with L or C...
In a pinch, deploy a smart bomb with V or semicolon! In Normal mode, the smart bomb is deployed for you - concentrate on dodging!
日本語版
メニュー「Options」から「Language:日本語」を選択できる。
---
Credits
---
bluerevolvergame.com ★ greenlight ☆ tumblr ★ twitter ☆ presskit

| | |
| --- | --- |
| Published | Sep 07, 2015 |
| Status | In development |
| Platforms | Windows, macOS, Linux |
| Publisher | Stellar Circle |
| Rating | |
| Author | woof |
| Genre | Shooter |
| Tags | Bullet Hell, cave, Colorful, raizing, Shoot 'Em Up |
| Average session | A few minutes |
| Languages | English, Japanese |
| Inputs | Keyboard, XBox 360 controllers, Gamepad (any), Joystick |
| Accessibility | Configurable controls |
Install instructions
Windows users should extract and run the exe.
OS X users should extract and run the app.
There is now an experimental build for Linux users that shouldn't require you to install anything! Just extract and run the .sh file. (Ubuntu 12.04+, Fedora 20+, Linux Mint 13+, openSUSE 13.1+)

If that doesn't work, install the LOVE2D runtime and use it to run the .love file. Please note, you need version 0.9.2 - package managers might have outdated versions.